yourPulse version 1.0
Every second your heart beats at a set rate. If you exercise that rate should increase to an elevated rate. thePulse lets you find your heart rate and keep track of what your heart rate is at different conditions. Say you are just resting, take your heart rate. Go for a run and then take your heart rate. The next time you run, take your heart rate and compare to see if you did as much work. thePulse will give you your maximum heart rate (based on your age) and then will give you your target rates for your fitness level. Keep track of your beat.
Taking your heart rate is simple with the pulse. First find your pulse. Push the "Start counting pulse button" and start to count your pulse. Push the "Stop counting button" when you are ready. Move the slider over to how many beats you felt. It will then give your heart rate, max rate and targets (for when exercising). Lastly if you want, enter any comments about that rate and click the "Add to History" button. You can then go to the history window and review your heart rate history.
Click on the profile tab to enter your age, and fitness level. This will customize your heart rate max and targets.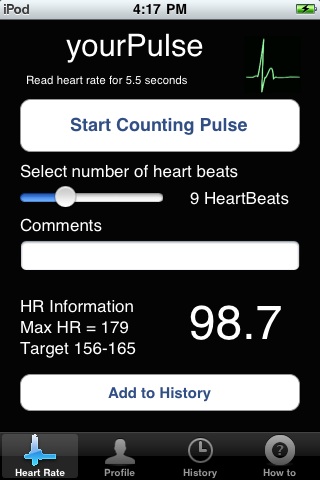 If you want to know more about how to find your pulse, click on the "How to" tab for instructions on how to read your pulse.
Please let us know if you have any feedback (web@lajdesignsw.com). Thanks